ROAD TESTS
Guide to Planning and Implementing a Road Test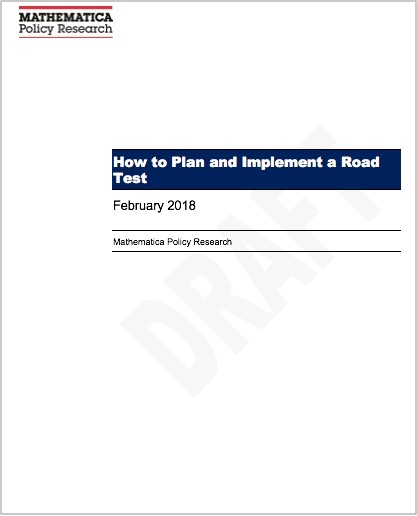 DOC
The Guide to Planning and Implementing a Road Test is a 40 page manual with details and descriptions for planning and implementing a road test, specifically designed with  CalWORKs counties in mind.
For more in-depth information on how to get started, review webinar 8 on Planning + Implementing a Road Test.
How to Do a Road Test – Resources from Mathematica
Mathematica Policy and Research Resources
Two practice briefs include useful information about road tests:
Learn, Innovate, Improve (LI²): Enhancing Programs and Improving Lives is a high-level overview of the LI² process.
Using a 'Road Test' to Improve Human Services Programs is a practice brief on road tests (a component of the Improve stage of the LI² process).
After viewing these overview resources, check out our Road Test webinar below. In it you will learn how "road testing" refines and strengthens the implementation of a new strategy before scaling up.
Road Test Webinar by Mathematica
On February 7th, one of the CalWORKs 2.0 Initiative Team organizations, Mathematica, offered a webinar entitled Using a "Road Test" to Improve Human Services. Although this webinar is not strictly a part of our CalWORKs 2.0 support, it provides a useful overview of road testing and how it can be beneficial in a human services setting.
You can watch the full webinar video below, or view directly in YouTube here. You may also want to view the accompanying Road Test Powerpoint.