COUNTY ADMINISTRATIVE TOOLS
CalOAR Process and Logic Model
A document on the CalWORKs Outcomes and Accountability Review (CalOAR) process was given out at the September 25th convening.
A statewide work group consisting of stakeholders including state agencies, counties, advocacy groups, research teams, the legislature, and CalWORKs recipient populations developed a plan for systematically collecting and disseminating data. This will help county staff improve their decision making about program management.
County-Level Guide
This guide is for county administrative staff. It describes the components of CalWORKs 2.0 and the constructs behind them, and provides instructions for using a set of tools in a regular county planning and improvement process. The guide includes two sections: Section 1 provides background on the underlying concepts of CalWORKs 2.0; Section 2 provides directions on how to use the CalWORKs 2.0 framework.
County Resource Map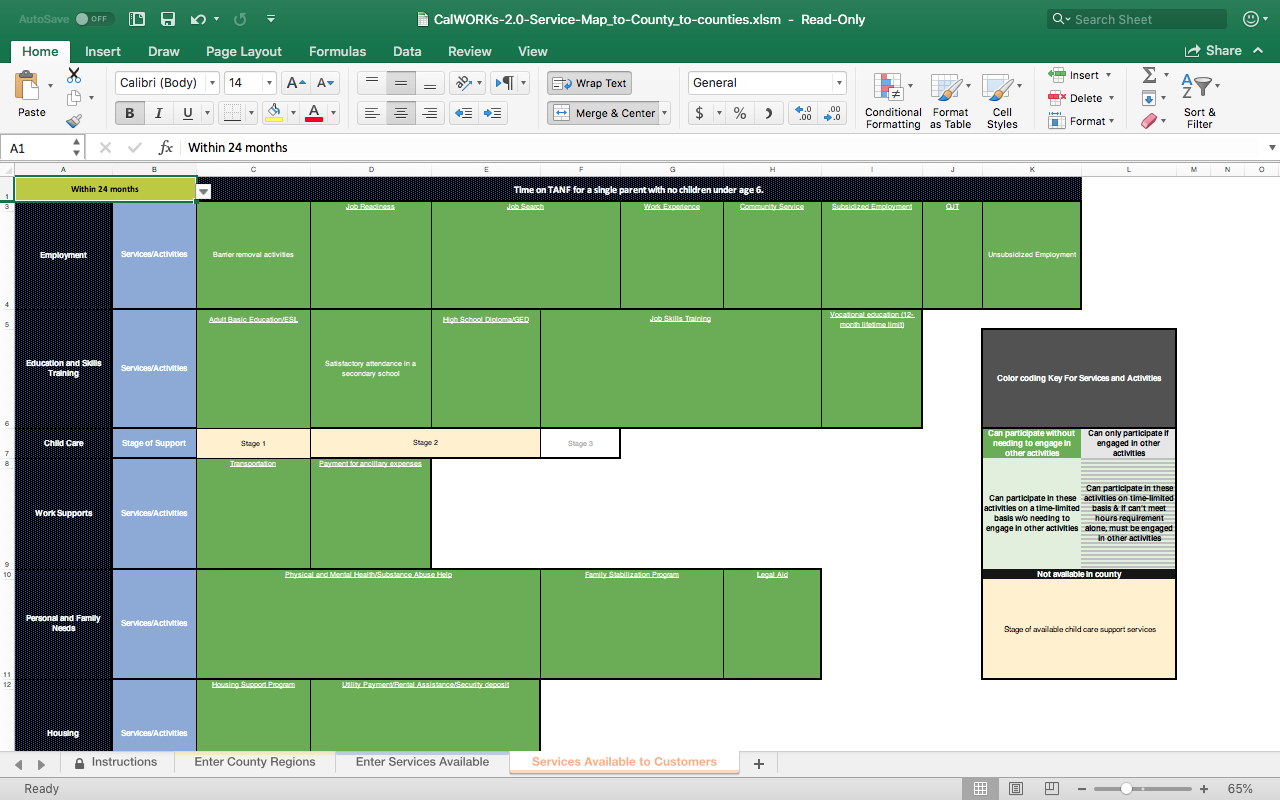 Fillable Excel File
The County Resource Map is designed to make it easy for program administrators to identify how program resource allocations align with program services priorities and the community needs. The result of the resource mapping activity is an easy to reference guide for all staff to access that provides an up-to-date menu of what activities and services are available. The guide simultaneously allows administrators to reflect on intentionality in resources allocation and to facilitate staff demonstration of intentionality in activity selection.
How to use: A program administrator with the greatest depth of knowledge of the services and activities available in the county will populate the resource by following the instructions in the first tab of the Excel sheet. Then at regular intervals determined by the county the resources should be updated. Provided the map output to staff for reference in making intentional service selection decisions. As part of the county assessment and goal setting process, review the map alongside the county self-assessment tool to analyze areas for continuous quality improvement.
County Self-Assessment – CalWORKs 2.0 Implementation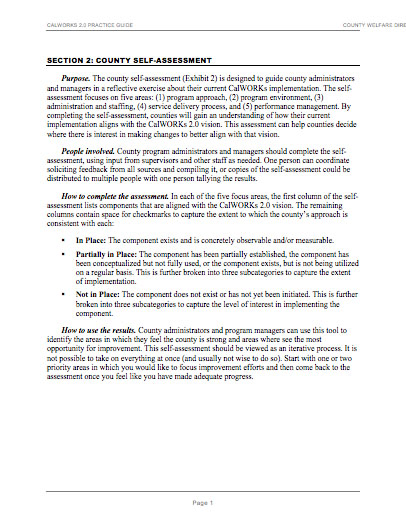 DOC
The county self-assessment is designed to guide county administrators and managers in a reflective exercise about their current CalWORKs implementation. It focuses on five areas: (1) program approach, (2) program environment, (3) administration and staffing, (4) service delivery process, and (5) performance management. By completing the self-assessment, counties will gain an understanding of how their current implementation aligns with the CalWORKs 2.0 vision.
Fidelity Guide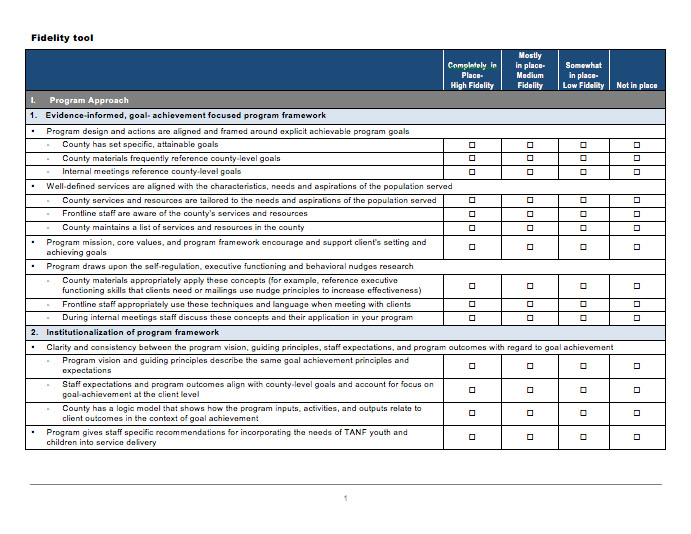 Fillable PDF    OR   DOC
Goal Setting Guide
This is a brief document that introduces county goal setting, and provides framing for thinking about county, program and client goals. The graphics and stepwise process succinctly walk counties through initiating the goal setting process.
Intentional Service Selection Guidelines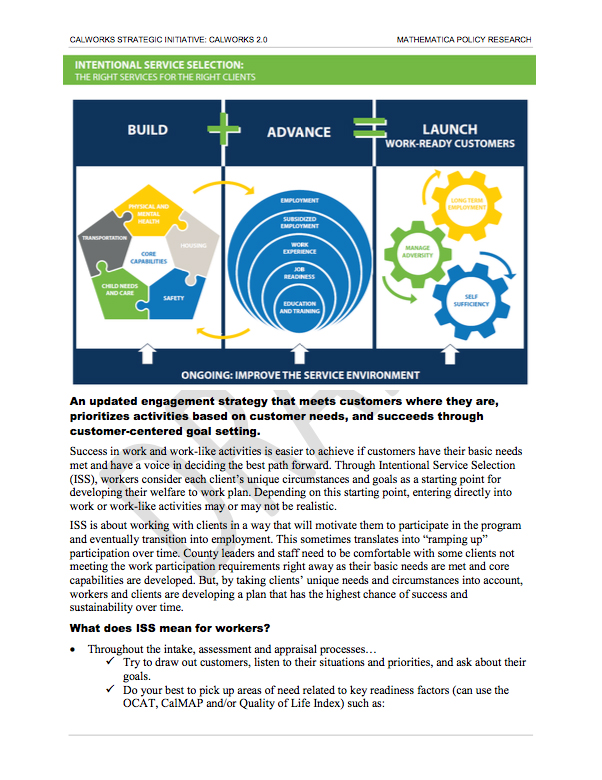 PDF
An updated engagement strategy that meets customers where they are, prioritizes activities based on customer needs, and succeeds through customer-centered goal setting.
Redesign Orientation with CalWORKs 2.0 in Mind
(Guide Coming in November)